Description
A quick opening deckplate
These Quarter-Turn Deck Plates feature a new locking system that prevents over tightening, jamming, or cross threading. Easy to open and close. A specially engineered lubricated gasket is used in conjunction with a knife edge for a leak tested seal. Avoid contact with acetone or strong solvents. Constructed of UV stabilized ABS plastic. Installs with six #8 FH fasteners (not included). Available in black or white.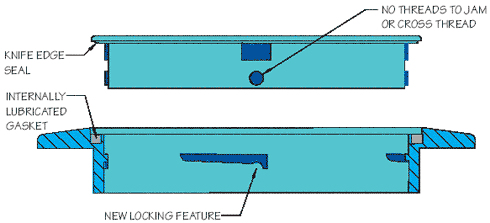 Part No.

A

B

C

D

SD-336140
SD-336145

4"

6-1/8"

4-1/2"

5-3/8"

SD-336150
SD-336155
5
7-1/8"
5-1/2"
6-3/8"

SD-336160
SD-336165

6"

8-1/8"

6-1/2"

7-3/8"

SD-336180
SD-336185

8"

10"

8-3/8"

9"

We have found that, especially when quarter turn deckplates are installed in hard to access places, their function can be greatly enhanced by simply adding a wood handle to the surface of the cover. Shown here are the ones we put on the Rifleman we built. They are Mahogany - about 3.4" high by 2" by 4" long. Two 1" ss screws and large washers hold them in place. We did not use glue, but that would probably have been a good idea.
Feedback:
I wanted to say the large quarter turn deck plates are very nice but I don't think I could open them without a handle. I made the mistake of snapping one shut when you first sent them and I had to make the handle to open it. I think the lubrication you suggest will help greatly. Picture below.
George Cunningham
View All
Close