Description
A stand up paddleboard
12.9" x 29" - 3.89m x 74cm
Maximum recommended capacity is 220lbs {100kg}
Weight 25-30lbs/12kg.
For Printed Plans for Lanui, click HERE
The Lanui paddleboard is a lightweight, inexpensive and quick and easy to build skin-on-frame stand up paddleboard (SUP). The Lanui is ready to go at the spur of a moment, easy to transport, fun, stable, and optimized for relaxed - or athletic - use by paddlers of all ages and abilities. She's great for poking up creeks, exploring back bays . . . or for getting in a fun, aerobic workout on the lake.
Plans, in both English and Metric measurements, come with full sized patterns and a very well illustrated building guide that includes sources for materials, and covers all you need to know - from constructing the frame to skinning and coating the fabric. If you want to build a SUP, this is the least expensive, lightest and easiest to build board on the market!
The bow is a modified garvey shape, providing good floatation and simplifying construction.
The deck and rigging can be larger or smaller, plainer or fancier - they're easy to customize for individual preferences or needs.
The frame is straightforward and fast to construct, and utilizes easy to find lumber lengths.
Lanui vs Boardyak
Lanui is a dedicated SUP, whereas the Boardyak is a compromise between a sit-on-top and a SUP. Lanui is faster, longer, has more initial stability and is better suited for stand up paddling. However, if you envision sit on top paddling as your main usage, the Boardyak will keep your butt much drier, as the deck is higher out of the water. The Boardyak is the more maneuverable of the two, if you intend to poke around in narrower creeks and deltas.
Both are very quick and easy to build, with no sewing necessary.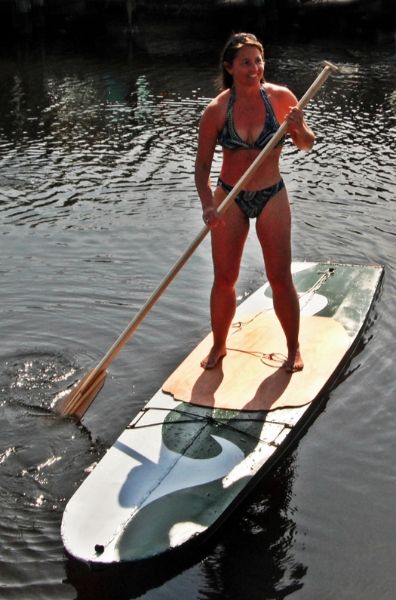 My thanks to Aaron Coe for his work on the prototype!

Note that I do not recommend transparent vinyl for skinning! Fabric is much tougher and easier to use.

Dog is my co-pilot
View All
Close
Additional Information
| | |
| --- | --- |
| Measurement: | Metric & Imperial |
View All
Close