Description
About Woods Downloadable Plans
For Study Plans click HERE
Specifications:
cold moulded or strip plank hulls, ply decks and topsides
g.r.p. production (Strider Club)

LENGTH O.A. 7.3m
LENGTH W.L. .6.65m
BEAM O.A. 4.3m
DISPL (empty) 0.7T
DISPL (loaded) 1.0T
HEADROOM 1.35m
DRAFT 0.55m
SAIL AREA 18.8sq. m (25sq.m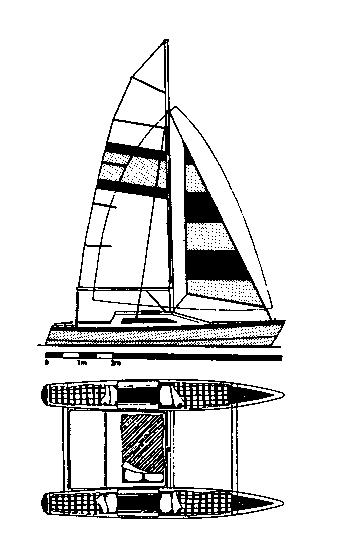 A bigger rig (known as F1 rig) is available (25sqm) for those who want more performance. It's shown below fitted to my old Strider Club, Yeta
The SHADOW is the plywood version of the grp STRIDER CLUB and is the most popular of our micros as it offers a good compromise between speed, accommodation and low cost. It is available as a g.r.p. production boat while plans for wood construction are also available.
Shadow features low aspect ratio (LAR) keels and a solid cockpit floor with a deep mast beam. All sail controls are simple (no winches) and the cockpit area is kept clear of ropes. The side opening hatches allow safe access when under way.
This is the boat that we sailed as a convoy of 3 boats singlehanded to the Soviet Union in 1989. We lived on board for the 3 months of the trip and sailed over 3000 miles from Plymouth UK to Tallinn.
"She is certainly close winded and tacked round without fuss"Practical Boat Owner

"The longer she is sailed the more she grows on you. She makes a seaworthy coastal cruising boat which offers great satisfaction and enjoyment under sail" Yachting Monthly
the photos below show a Shadow being built in the Phillipines
"Two Fishes has now logged hundreds of miles including a crossing to Flushing straight across the North Sea last year, and the same again this - via Ramsgate, Dunkirk, Ostende and Breskens." Norman Jenkins UK

"After 7 months your 29th Janus was ready. She is fast, really fast. I noticed several times when only 10 - 12m monohulls could keep up. Once friends commented "He's going very fast - he must have a good engine!" Engine, there is no engine, only sails!" A Bettencamp Portugal
Materials List:
PLYWOOD

Hull skins keel - stringer 2 3 mm ply 11 sheets
Topsides 5 or 6 mm ply 6 sheets
Bulkheads 6 mm ply 3 sheets
Beamboxes 6 mm ply 1 sheet
12 mm ply 1/2 sheet
Decking 5 or 6 mm ply 8 sheets
Keels 9 mm ply 1 sheet
Rudders 18 mm ply 1/2 sheet
Platform/cockpit 9 mm ply 3 sheets
Beams 6 mm ply 3 sheet
Use best quality gaboon throughout. Note if 5mm ply is un-obtainable then 6 mm ply can be used.

18 mm ply can be made from 2 layers of 9mm ply and 12mm from 2 layers of 6 mm ply.
TIMBER: Use douglas fir, sitka spruce, yellow cedar or similar unless noted
Note sizes are nominal and should be "planed all round"(PAR) ie final

size of 1 " x 1 " = 20 x 20mm
1 " x 1 " 70m
1-1 / 2 " x 3/4 " 120m
2 " x 1 " 160m
1-1/2 " x 1 1/2 " 22m
3 " x 1 1 / 2 " 2m
3" x 3/4 " 10m
2" x 2" 3m
3" x 1" 4m
1-1/2" x 3/4" 15m (hardwood for outer gunwale)
2 " x 1 1 / 2 " 4 off 4100mm plus 15m (beams)
1" x 1 1 /2" 8 off 4100mm pllus 10m (beams)
4" x 1" 2.5m
4" x 2" 2m (cedar, outer stem - can be laminated from smaller pieces)
6" x 1" 12m (keel planks - can be laminated )
4" x 1" 15m
3" x 1" 5m (hardwood - sacrificial keel)
3" x 2" 1.5m
GLUE:

minimum 10 kg epoxy and 20 kg resorcinol or polyurethene glue eg Balcotan

GLASS

15 metres 100 mm wide glass tape
15 m2 minimum of 300 g glass cloth + 5 kg epoxy. 20 m2 cloth is required if decks are sheathed.
NB glass must be compatible with epoxy

FILLERS

500 g collodial silica & 1000 g Microballoons (min
FASTENINGS:

approx 5000 12 mm staples
500 g 3/4" "gripfast" nails
500 3/4" no. 6 brass CS screws
100 1 " no. 8 brass CS screw
View All
Close