Product Description
An 18 foot stitch & glue trimaran
For Sardine Run Study Plans, click HERE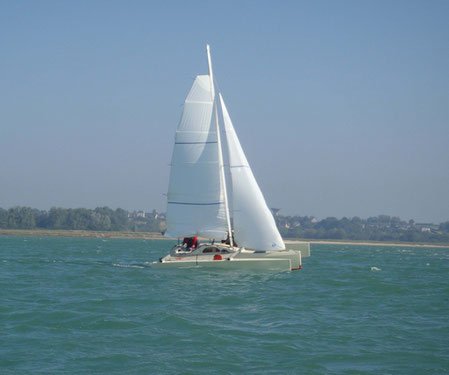 This little 18' Trimaran can easily be built by home builders. It is stich-and-glue construction.
This kind of boat is new: she is designed for raid or little cruising with a good charge capacity. She can be dismantled to become transportable. She is unsinkable too.
Professional construction : please contact Sardine Boats - The boat is available in semi-finished version. Kits are available too.
Click for photos of the construction process.

Home builders: Budget: about 6000 Euros of materials for a boat ready, without sails. Count 2000€ for the Mainsail +Solent and 600€ for the spinnaker.
Sardine Run Specifications
Length Over All: 5.70m
Hull length : 5.50 m
Length at DWL: 5,50 m
Beam maxi : 4,04 m
Beam of the main hull: 0.85m
Drafts : 35cm / 76cm with a dagger-bord on each float.
Displacement: 300kg
Displacement full load :530 kg
Folding rudder on the main hull
Headroom: 1m30
Mainsail area + solent area = 19,75m²
Mainsail area: 13,85m²
Solent area : 5.9 m2
Gennaker area : 16.1 m2
2 Berths
Engine :outboard possibility 2-4 hp
Construction Plywood, glass-epoxy.
Crossbeams: aluminium tubes of 100mm diameter, 3mm thick. bolted vertically.
Unsinkable
Demountable
Trailerable: 300kg for the boat + 130 kg for the trailer = 430kg
European conception category : C2
Designer: E.Henseval yacht design
The aim of this boat is not to sail as fast as a F18' catamaran, but to sail in micro cruising with a happy trimaran. Compared to the other trimarans, the net is placed 70cm above the water: it is a very high position, for this lenght of boat. It will enable the crossbeams to be sufficiently high above the waves. It will avoid any "brakes" in the waves, and avoid too many sprays too. The boat can beach easily.

the main hull looking aft


the main hull looking forward
Built in epoxy plywood, Sardine Run is made with the stich and glue construction method. See construction photos here. Each hull shell panel is developable, and plans (A0 format, 1.189mx0.841) are furnished with all quotations for all parts of the boat, well organised on each plywood panel.
The set of plans is composed of 14 large sheets (A0 format: 1,189m by 0,841m!), easy and detailed. Each bulkhead, each part of the boat is very detailed, up to every stainless-steel piece of hardware. Several colored sketches are furnished, with material lists, hardware list, etc... CNC files are available free in the set of plans (dxf files for all hull parts of the boat: hull panels, plug bulkheads, etc...)
FAQ
Q: How do the Sardine Run akas either fold or demount?
A: The akas are bolted vertically in the crossbeams with 10mm diameter bolts. The access is easy with little inspection hatches to reach the nuts. This method permit to have a good stenght of the structure, and to avoid any problems caused by any folded systems. It is an economical choice, too.

Q: How long will it probably take to fold or demount the Sardine Run's akas?
A: Abou 40 minutes.

Q: Can you explain the steps that a sailor will take in order to set up the Sardine Run to go sailing as they take the boat off the trailer and then put it into the water?
A: First, on the trailer, the main hull is positionned side by side with the amas. The crossbeams are placed longitudinally on the trailer. There will be 2 light "female plugs on rollers" (in plywood) to move each ama at the good beam. Then they are bolted. When the boat is mounted, she is always on the trailer, and then put into the water.

Q: What type of sailing rig is used for this boat (factory-provided, homebuilt, etc)?
A: It is a factory-provided aluminium rig.

Q: Where would a homebuilder get their mast from (buy, build, have it built for them)?
A: There are all specifications and cotations available on the detailed rig plan to make the mast built by any factory.
Q: How long does it take to set up the sail rig?
A: It could be compared to the time needed to set up the sail rig of a Hobbie 18'.

Q: Are there any special or unique considerations with regards to getting this boat set up to go sailing for the day?
A: I don't think it is a boat you can really set up to go sailing for a day as a current use. The time needed to mount it is about 45 minutes, but it is totally possible.

Q: How many sailors are able to sail on this boat?
A: 2, and not really more, to keep performances, but the boat is designed to be loaded with additionnal cruising equipment.

Q: Is the ride/seating going to be fairly "comfortable" for the sailors on this boat?
A: The ride will be located on a floatting cushion placed on the net, and it will be more comfortable.

Q: If this boat has a cabin then how many persons can (will be able to) fit/sleep inside the cabin at any given time?
A: The boat has a cabin for 2 persons. The 2 persons can be sitted in front of the other one at the center of the boat. There is 1,30m of headroom, with 80cm wide. We can go inside even if the boat is sailing.

Q: Is there (will there be) room for a porta-potty in the cabin?
A: Yes, it could be possible.

Q: Is there (will there be) room for a cook stove or refrigerator inside?
A: There won't be room for a fixed cook stove and not really more for a refrigerator, unless you decide to use the forward berth for that...

Q: What type of performance can a sailor enjoy under optimum conditions ?
A: I think we will reach 15 knots comfortably in good conditions, and I think more. We expect too a good comportment upwind, with centerboards placed on each floats. The boat has been designed to be safe as long as possible if the wind goes up
Product Reviews