Description
A handy row/sail dinghy pram
7'11" x 47" {2.4m x 1.2m}
Maximum recommended capacity is 400lbs {182kg}
Weight about 55 lbs. {25 Kg}
For printed plans for Piankatank River Pram, click HERE
The PRP is a great handling little skin-on-frame dinghy designed for utility and practicality. She fills the needs of cruisers looking for a lightweight dink to tow or stow on deck, and she's a wonderful little boat to tool around in under oar or sail. The Piankatank River Pram has a classic heritage, based on a design by the legendary Francis Herreshoff that was, in turn, modified by the great John Gardner. Our version converts that able craft into an ultralight SOF boat that also sails quite respectably.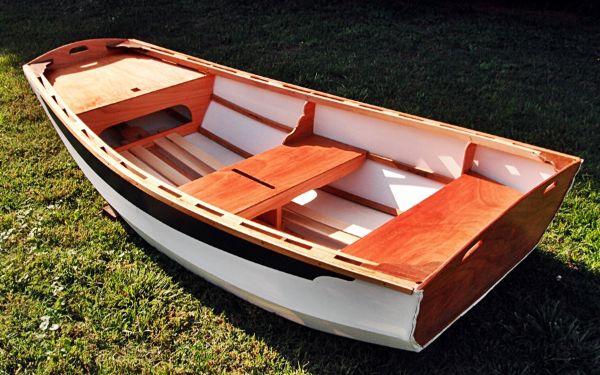 The PRP has room for two adults, plus space left over for pets or groceries. Her flat bottom gives surprising stability in such a light boat, and she rows as well as any 8' boat - and better than most. As for sailing, she's easy to handle, rigs in just a few minutes, and moves along in the lightest of airs. She uses a simple and efficient standing lugsail and has full floatation under the seats. The Piankatank River Pram is very easy for one person to carry and transport, and would make a perfect sail trainer for kids or adults, a capable dink to service a larger craft, or a fun boat for fishing or exploring marinas, ponds, coves and hidden backwaters.
Considerations:
Sailing with two adults aboard is certainly doable, but would feel pretty crowded, in my opinion.
This boat is more stable and much tamer - but also slower - than the Annabelle Skiff. They both sail just great, though!
Short boats are more difficult to build (bends are tighter), and a sailing rig often takes as much time to construct as the hull itself. So, even though this boat is small, it's still a more complex build than many of our other designs.
One could easily substitute an existing sailing rig from another boat - an Optimist pram rig would work well, for instance.
High quality, low cost sails are available for this boat from Really Simple Sails.
A "rowing only" version of the PRP is an option, too, one that would be lighter, faster and easier to construct - as well as being less expensive. The instructions cover suggested mods.
Construction is typical for our boats . . . marine plywood with cedar stringers. The skin is 8oz polyester, coated with paint or varnish. No epoxy encapsulation, no steam bending - and no sewing! The plans come with full sized patterns for the frames, transoms, knees, etc, and are very well illustrated and include everything you need to know to build the boat from scratch. Frame kits are available too, however, which will save you lots of building time and trouble finding lightweight, high quality marine plywood.
View All
Close
Additional Information
| | |
| --- | --- |
| Measurement: | Metric & Imperial |
View All
Close