Description
By popular request we are finally offering one inch nylon webbing and buckles. Since these are sturdy and not really affected by water, they are very useful for many applications on a boat. Some ideas:
Keeping hatches closed
Holding heavy gear in place
Sail ties
Taming sleeping bags and pads
Webbing sold by the foot
Buckles sold as a set including both male and female parts.
Note: We are offering two types of buckles - single adjustment and double. The picture at the top of the page shows the single adjust buckle and the photo below shows the double: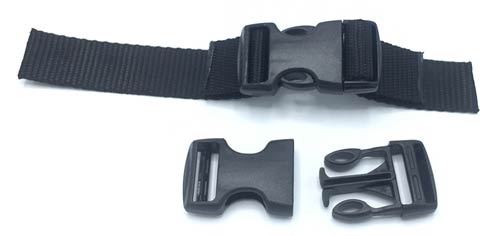 Single-Side Adjust buckles are perfect some purposes, but note that you'll need to stitch or otherwise close the loop of the webbing on the single-adjust side. The Double-Side Adjust buckles allow webbing to be fed in and adjust from both sides.


***********
---
One interesting use for this webbing is as an anti abrasion layer on skids, stems, and skegs. The pictures below are from WoodenboatDan Mattson. He used similar webbing over the skegs on his SCAMP.




Next he soaked the webbing with epoxy and finally coated all with an epoxy/graphite mix.


Be sure to see the Seadog 081261 for attaching the webbing end to your boat.
View All
Close