Description
Luonteri
Length 5122mm (16` 9 1/2")
Beam 520mm ( 20 1/5" )
Paddlers weight ca. 70-95 kg ( 154-210 lbs ).
Luonteri is a "trail hiking kayak", that can be divided into three parts. It makes storage and transportation more easy. In addition, the kayak can be transported as a "cart" with one wheel along roads or trails. If your planning transitions along trails, I recommend packing lightly and using a stronger 20" fatbike wheel. While paddling, the wheel must be transported on the back deck. 12" Kids bike wheel fits inside boat, but it is not as good on trails.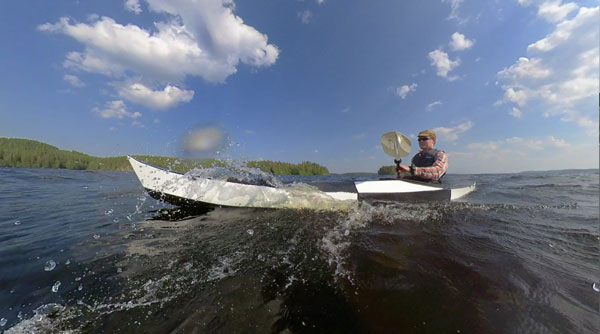 This is not the easiest kayak to build - there is nothing particularly difficult, just use some time while mounting parts together.
Plans are available in both A4 and letter formats. Be sure that you select right file to match your paper size. At the end of the plans there are printable 1:1 patterns. Check your printing options, that you have set print scale 1:1 or scale = none when printing these pages. Print template pages on as thick paper you have and check after printing, that dimensions on templates are correct!!
View All
Close