Description
For Daniel's Boat Plans Digital Download, click HERE
Twelve year old Daniel had pretty much outgrown his Stuart Reid designed miniature flat bottomed skiff, and father Wayne Chittenden had arranged to stay with me over one Christmas to do a spot of boat building.
Wayne wanted to build himself one of my light surf dories and had also asked if I could design a replacement for Daniel's skiff. The brief was straightforward enough - they needed a sailing dinghy light enough to roof rack or for a youngster to drag up the beach. Big enough to take three adults sailing, or five when rowing so she could double as a yacht or launch tender.

Wayne with Applejack almostfully planked up,
decks and seats still to come
She was to be seaworthy enough to cope with the four mile passage across to the grandparents place on Waiheke Island and fast enough to be worth sailing in the kid's classes at the annual Waiheke regatta and last but not least she had to be built on the thinnest of budgets!
By the time my guests arrived I had a preliminary sketch on paper, based on previous boats similar but larger.
I gave her more flare than her bigger sisters to keep the lightweight crew out where the weight would do the most good, lots of freeboard and a cutout for an outboard motor. The area under the foredeck provides a capacious locker for camping gear as well as adding to the buoyancy tanks under the seats. I gave her an underwater shape that would allow her to plane when lightly loaded, ample sail area and reef points for sailing on "those" days.
Wayne and Dan flew into the building and made rapid progress. I dashed out to the workshop several times a day with more drawings as the previous parts were completed and the piles of scrap and sawdust grew as the two boats took shape.
The Light Dory was completed in time for the Stillwater rowing race. Wayne slid the boat into the water, named her "Emma McLeod" after his Grandmother, climbed in and headed off out to the start line with his (very comely) passenger aboard. He didn't win but he had a big grin on his face at the finish. Daniel's boat went off to their home in Hamilton structurally complete but what with one thing and another Dan didn't get her in the water for a while. In the meantime the prototype had created a lot of interest. Over the next few months five sets of plans were sold, the resulting boats being firm favorites with their owners.

That was a few years ago, and then Shane Kelly (my Sea Spray magazine editor mate) talked me into the series of "how to" articles on building small boats that became the basis for my book. I included a photograph of Daniels Boat and the readers responded with a flood of enquiries, so I redrew the somewhat sketchy plans and here she is.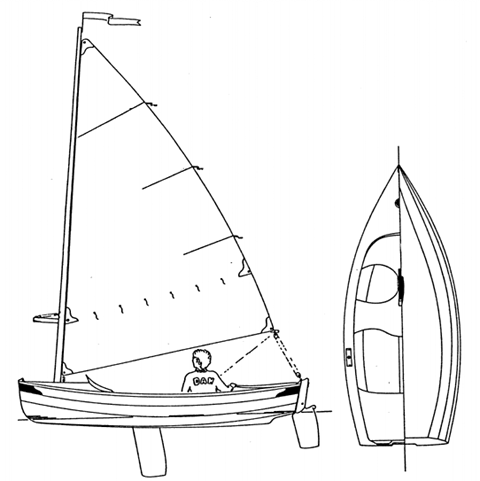 L O A - 3.2M 10FT 6IN
BEAM - 1.34M 4FT 4IN
WEIGHT - 65 KG 145 LBS
SAIL AREA - 4.75 SQ M 51 SQ FT
View All
Close