If you've been tuned in to Duckworks for the last few months, you've probably gathered that we are quite fond, and quite proud, of our Scout CNC Kit. Scout was front and center in our space at the Seattle Boat Show, drawing in curious and aspiring boat builders from all over the Pacific Northwest, and for good reason. Her light weight, clean lines, simple construction, intuitive and simple sail rig, and spacious design make Scout an appealing dinghy; sporting both function and style.
Just when we thought we couldn't be prouder of our little boat, Scout made her YouTube debut in some of the most capable and talented hands we could hope for!
Aladino and Maya of Sailing Magic Carpet fame have chosen Scout to join them on their new boat, a Cape George 36 (fun fact: Cape George 36 hulls are made right here in our home town of Port Townsend, Washington!) We are honored that they chose one of our favorite kits to serve as their dinghy, and we are excited to see them progress through her build, giving others the opportunity to watch how one of our CNC kits comes to life over a multi-week series!
Watch the first installment here!
Thanks for the Pro Tip, Aladino!
In this first installment, Aladino gave our manual's suggestion a try, adding fairing compound and then glassing over the fairing compound while it's still wet. One of the things that stood out in the video; while fiberglassing the deck foam, some air bubbles were created in the process. Though consolidating a multi-step process into one, it does create a situation where there are many variables at play. This can result in these air pockets. This isn't catastrophic, and luckily he had a great solution with flipping the imperfect side, and making what would have been the underside the top side.
Our Duckworks demo Scout—still unfinished after serving as an educational guide to stitch and glue boatbuilding at the recent Seattle Boat Show—is now being completed in our warehouse. While working on her foam deck this week, we decided to try Aladino's method, using epoxy with a fairing filler and allowing it to cure, then sanding flat, followed by fiberglassing in a second step.
After his feedback, we are going to take a look at the wording in the manual! We agree, you get the best results by allowing the fairing compound to cure and then sand it flat before moving on to fiberglass.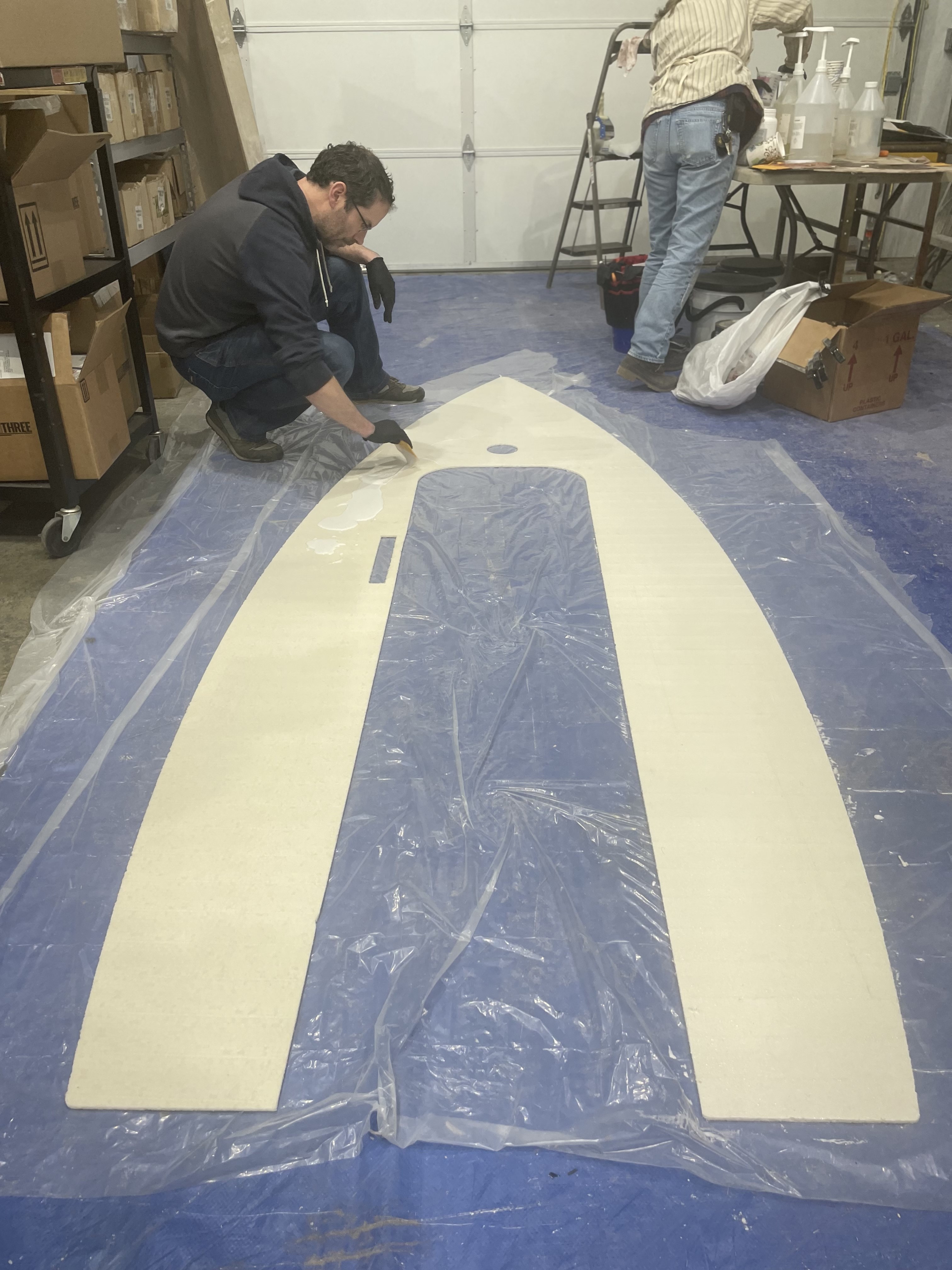 Scott working on our demo Scout's deck in the warehouse this week.
FAQ: Glassing on the Flat
There's been some discussion in the YouTube video comments about the idea of glassing the individual plywood pieces flat, versus completing this step following assembly. Many commenters hadn't seen that method before, but we find that when you're working on a kit it helps you secure the puzzle joints, and it's also easier to get the glass perfectly smooth on a flat surface while it's still two dimensional. This does have a tendency to fill in some of the pre-drilled holes and slots, but we find the benefit outweighs the time it takes to re-drill the holes.
It's also important to note that some of the parts are in fact also glassed following construction in our method (Aladino just didn't get there yet in the first video, that will be shown in a later installment.) After assembly, joints are glass taped on the inside and an additional layer of glass laid over the outside, tying the bottom, first and second planks together, as well as the stem and transom.
"Internal shapes are harder to glass when "boat shape", external shapes are generally easier," says Duckworks manager Scott Jones. "The Scout build tries to take advantage of both approaches."
The Whole Series is Now Live on YouTube!
We are looking forward to following Aladino's progress on his Scout, and will add links to each installment here as they are released. Check it out for yourself - it's well worth the watch!
Watch Part 1: "I tried to build a boat in 30 days"
Watch Part 2: "Can building a sailboat be this...easy?"
Watch Part 3: "I built a sailboat."
P.S. Duckworks now has our own fledgling YouTube channel as well, where we'll be sharing product videos, tutorials, and interviews with DIY boat builders. Head over there now and subscribe to follow along!

Recent Posts
There's a well-known folk adage out in the world, 'The proof of the pudding is in the eating.' Bu …

Some of you may not know that long before I came onboard at Duckworks, I worked for the Nor …

A lot of potential would-be boat builders ask us, "What's the best boat for a beginner to build?" …