A dose of inspiration for all of you aspiring boat builders out there!
It's hard to believe that we are saying goodbye to 2022 and wrapping up another year here at Duckworks! We want to wish you and your family a very happy new year.
In closing out 2022, we are thrilled to share a beautiful build by James Frederick Bland of Austin, Texas, who after eighteen months and 1000 hours of construction has launched a gorgeous 12' San Francisco Pelican! You may have seen the announcement of James' Pelican #2925 recently in the Launchings section of Wooden Boat magazine.
Constructed from plans purchased from Duckworks, we thought it fitting to show off his impeccable work and tremendous craftsmanship that has garnered the attention of the boat building community. We've been following his progress updates in the Duckworks Facebook Group and are excited to finally see the finished result.
About the Builder - James Frederick Bland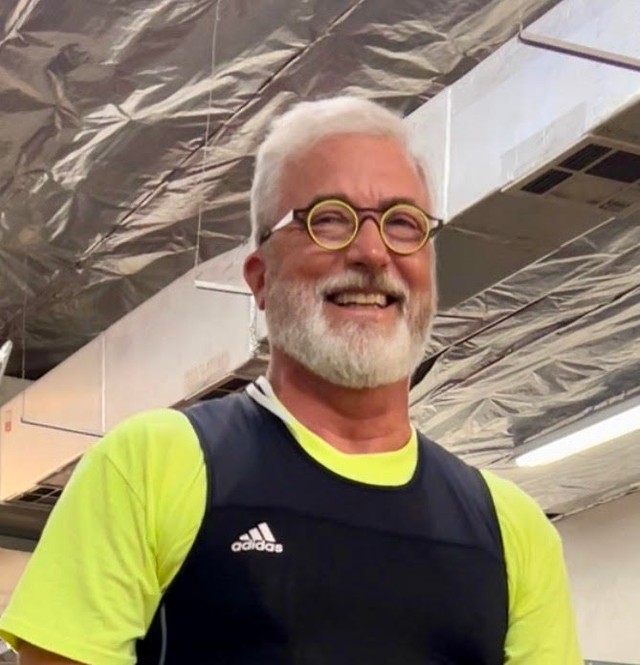 Though he is a longtime collector of boat building plans, James Frederick Bland says the San Francisco Pelican is his first full size build. But James is no stranger to the maritime world. Teaching himself to sail and race on a small lake in Battle Creek, Michigan at the young age of fourteen, James went on to graduate with honors from the United States Naval Academy in 1978 with a BSc in chemistry, and a Masters in Nuclear Engineering (specializing in Nuclear Submarines). James served a highly decorated 6 years in the Navy, including service on the fast attack submarine USS Birmingham, SSN 695.
James has also had careers as a commercial photographer and visual artist; he is currently active in oil painting and drawing in Austin, TX; creative roles that he attributes to his success in boat building. James also competitively participates in Masters Swimming, Masters Olympic Weightlifting, and Yacht Racing.
Why James Chose the SF Pelican
James chose to build the SF Pelican because there already are a large number in the world that are built and registered to race (over 10,000 built, and close to 3,000 racing numbers). The Pelican has a balance of well-defined specifications, yet doesn't require tight class rules for racing. In addition, James says he built his SF Pelican, "to practice precision and techniques as a warm up to building an OK Dinghy from CNC cut flat pack kit [Dan Leech OK Dinghy, NZL]."
The Journey: from Plans to Parts to Finished Boat
After purchasing the 12' San Francisco Bay Pelican plans, James set to work on his build. With a lot of hard work, support and suggestions from Duckworks and the boat building community, the SF Pelican began to take shape.
Putting in long hours and pressing through less than ideal weather conditions, James continued steady progress during the year and a half build, sharing his momentum with the Duckworks Facebook Community along the way.
James brought life to the 12' San Francisco Bay Pelican plans, originally designed by Captain Bill Story, using traditional construction methods. The boat was built with Meranti Marine Plywood, Mahogany, Douglas Fir and farmed Cyprus.
The finished build weighs in at 350-390 pounds, with a standing rig using 4oz Dracon Sails from our friends at Really Simple Sails, which we are now proud to offer as a part of our regular stock sail selections! (See our stock Pelican Sails here.)
Just like building a house, building a boat requires a strong foundation. Here the strong back is laid out, leveled and squared providing a foundation for the rest of the build.
Notice how James has precisely laid out the measurements provided by the plan (click to enlarge).
You can never have enough clamps!
Working on a bulkhead
Starting to look like a boat!
Painting the deck surface provides weather protection, a nice grippy surface, and a pleasing contrast to the eye.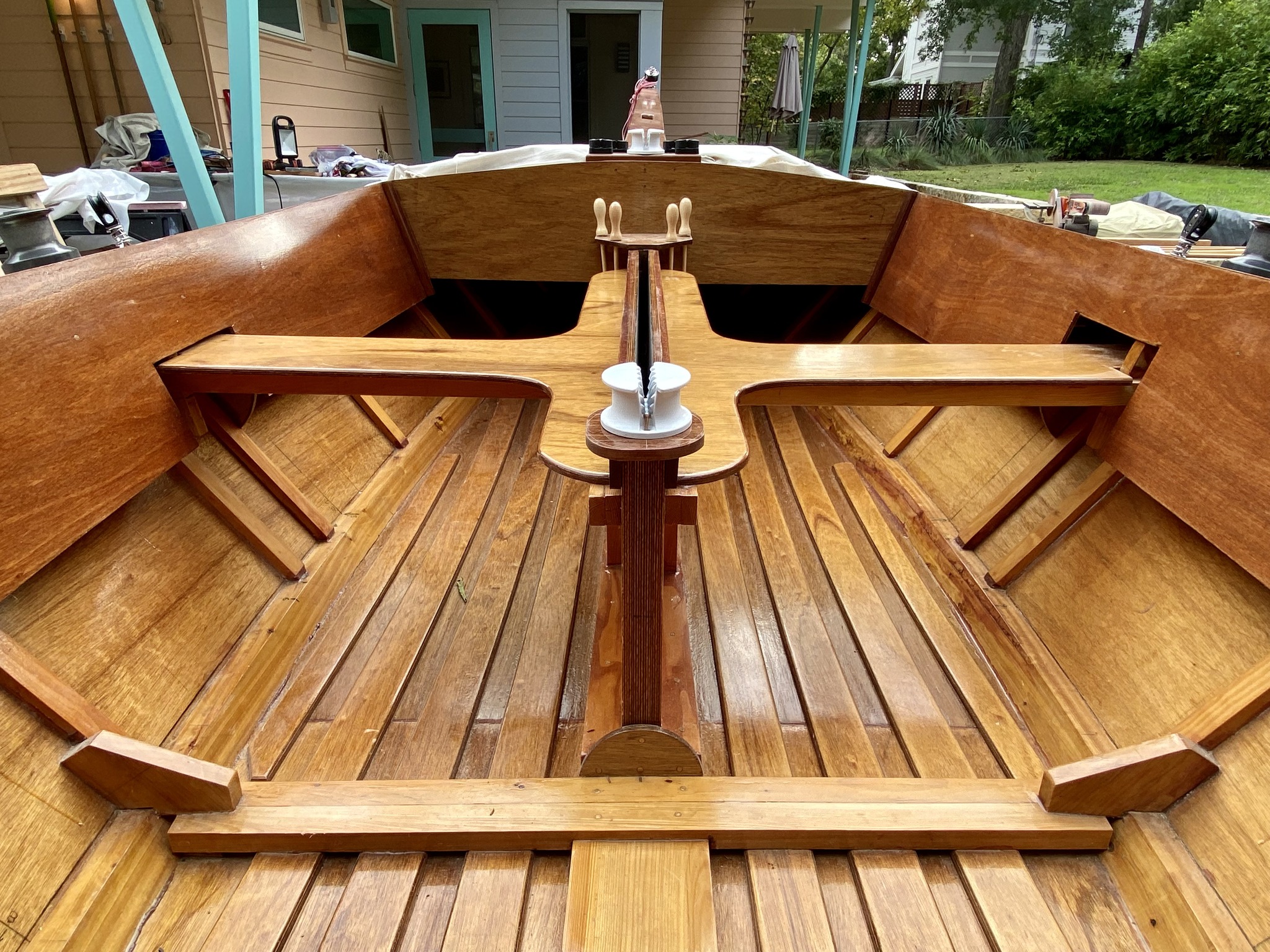 Beautifully finished interior
James' sail number 2925 is neatly stamped onto the boat's keelson
Pelican sails by Really Simple Sails are now in stock at Duckworks.
Interested In Building Your Own Pelican?
The San Francisco Pelican's ease of construction and forgiving nature under sail makes the design an excellent choice for a first time builder. You won't need a decade of apprenticeship or a shop full of complicated tools to complete a SF Pelican build of your own. It is a high volume boat with incredible stability, and the standing lug rig makes it friendly to both new and experienced sailors.
We've got pretty much everything you need for your own Pelican build here at Duckworks – plans, hardware, line, epoxy, bedding compound, paint and more! We've got you covered on everything except the wood material itself. Boat building is a personal craft, and the San Francisco Pelican plans leave some room for individualized options for materials that help you make your boat your own. We offer plans for the 12' SF Pelican in both print and downloadable PDF formats.
Suggested Parts and Materials
While we've got everything you'd need for a Pelican Build from epoxy to fiberglass fabric down to the last wood screw, we'll focus here on some of the Pelican-specific products we have to offer, OR those that can help you achieve a similar look to James' build.
HARDWARE: To keep things simple, a builder may consider purchasing a San Francisco Pelican Hardware Package, these packages come with all the hardware you need to put together your own build. It includes wire for bobstay and shrouds, all running lines and blocks, cleats, chainplates, rudder hardware, and much more.
To bed the San Francisco Pelican's hardware, a builder may consider Dolfinite Natural Marine Bedding Compound, a long-time favorite of boat builders. Dolfinite provides some protection from water intrusion, but still allows for removal of a part down the road. Its naturally oily and thick consistency can be painted or varnished, and it's an easy product to clean up and apply.
Additionally, You may consider 3M 4200 Marine Adhesive Sealant to bed the hardware on this build, a product that is essentially the little cousin of 3M 5200. 3M 4200 has a rubbery and sticky consistency, it's not quite a glue but it does stay flexible and can be painted; most importantly, and the biggest difference in the 4200 and the 5200, is that the 4200 has less permanence when it comes to bedding hardware. While it is quite strong, it can be removed, whereas the 5200 requires near deconstruction of the entire boat to remove bedded down elements.
FINISH: James Frederick Bland's beautiful build features a bright finish; for a similar look, a builder could use System 3 Marine Spar Varnish to achieve sparkling brightwork.
RIGGING: When it comes to lines for your build, you may consider DWX Raid Braid, a new yacht braid made exclusively for Duckworks. Raid Braid is an American made, low-stretch polyester double-braid that's perfect for halyards, sheets, and various control lines, and the braid offers excellent handling and easy splicing. The "Traditions" color goes nicely with a classic-looking wood sailboat like this one.
SAILS: James opted for 4oz Dracon Sails from our friends at Really Simple Sails for his build. Thanks to his inspiration, we are now proud to offer builders a suit of these very same RSS sails for the 12' San Francisco Pelican! These sails, made exclusively for Duckworks, are available in tanbark or white.
Whether you are an experienced builder, or looking to get started on your first project, the San Francisco Pelican is a achievable boat to transform from plans to launch!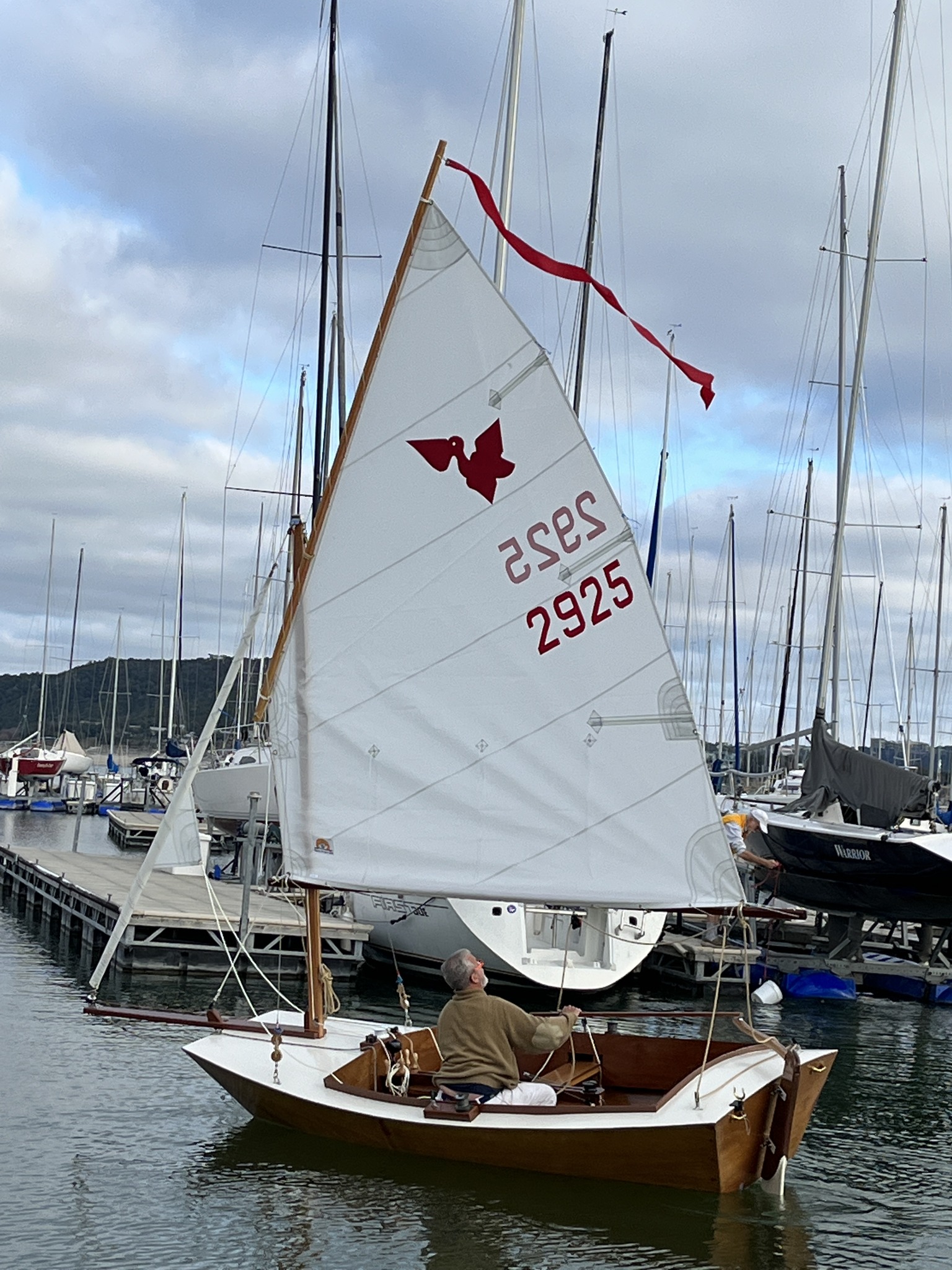 Congrats on a beautiful build James! We are happy to see you enjoying the fruits of your labor!
Recent Posts
Get 10% off storewide* -- and a FREE Duckworks Rubber Ducky on supply orders of $50 or mor …

There's a well-known folk adage out in the world, 'The proof of the pudding is in the eating.' Bu …

Some of you may not know that long before I came onboard at Duckworks, I worked for the Nor …