Some of you may not know that long before I came onboard at Duckworks, I worked for the Northwest Maritime Center (NWMC) as their boatshop manager for about a decade–working on fleet boats, teaching in and supporting our programs, working with kids and those more "experienced" in life too. I was also lucky enough to have a major role in building SCAMP #1 during my time there. The campus was young and growing, it was an exciting time and it seemed like every month some new program was being launched.
Perhaps the most exciting (or at least the loudest) of all the new programs was Race to Alaska, R2AK. It all started at a brainstorming meeting. Picture 100 people, staff, board members, and folks from the community all in the Maritime Meeting room at the NWMC. Spread around the room were 1-2 dozen tables. Each table represented an "idea," everything from an electric pump out boat, to what became the R2AK and everything in between. The R2AK table was packed, discussion was active and ideas were flung about. The bare bones were established at that meeting and a few short months later the concept was launched – the inaugural race was held in 2015.
Fast forward 8 years and half a dozen races, and we have seen some fast finishes. The first year team Elsie Piddock set the pace at 5d 1h 55m, only to be blown away in 2016 by team Mad Dog Racing at 3d 20h 13m, a record that still stands. Teams that finish the race in a matter of a few days are impressive, the speed is unmatched. The reality of living one deadhead away from catastrophic failure, on the razor's edge, pushing yourself mentally and physically all the while charging to the finish line cannot be overlooked. The big fast boats are impressive and thrilling. I too am a Tracker Junkie.
However, in my opinion the heart of R2AK is the folks that choose to do the 750 mile course in a small boat. The intimacy with the sea and nature that you get in a small boat is unmatched. The challenges of weather, seamanship and boat handling are every bit as real and pressing, if not more so, in a small boat than in a larger vessel. Plus covering the 750 miles is going to take you a long time, and turning back isn't likely to be any faster than continuing. So you may as well go on, making that conscious decision to get up and make yourself head out again, when you know that the boat will be cold and wet and it's 3am, while your sleeping bag is warm and your tent is dry, but you have to catch the tide. That dogged nature takes a level of integrity and determination that we at Duckworks admire.
At our heart, we at Duckworks are small boat people. While the larger sailboats have a much better shot at the big cash prize, the small boats that make this incredible journey have often been relegated to the prize of "bragging rights." We felt that the small boat crowd is just as deserving of some recognition and a prize of their own.

Duckworks is thrilled to step up this year with a side bet for the 20' and Under category! The first R2AK finisher in a boat 20' and under will win a pair of one-of-a-kind tactical sporks (and oh yeah… a $1,000 cash prize).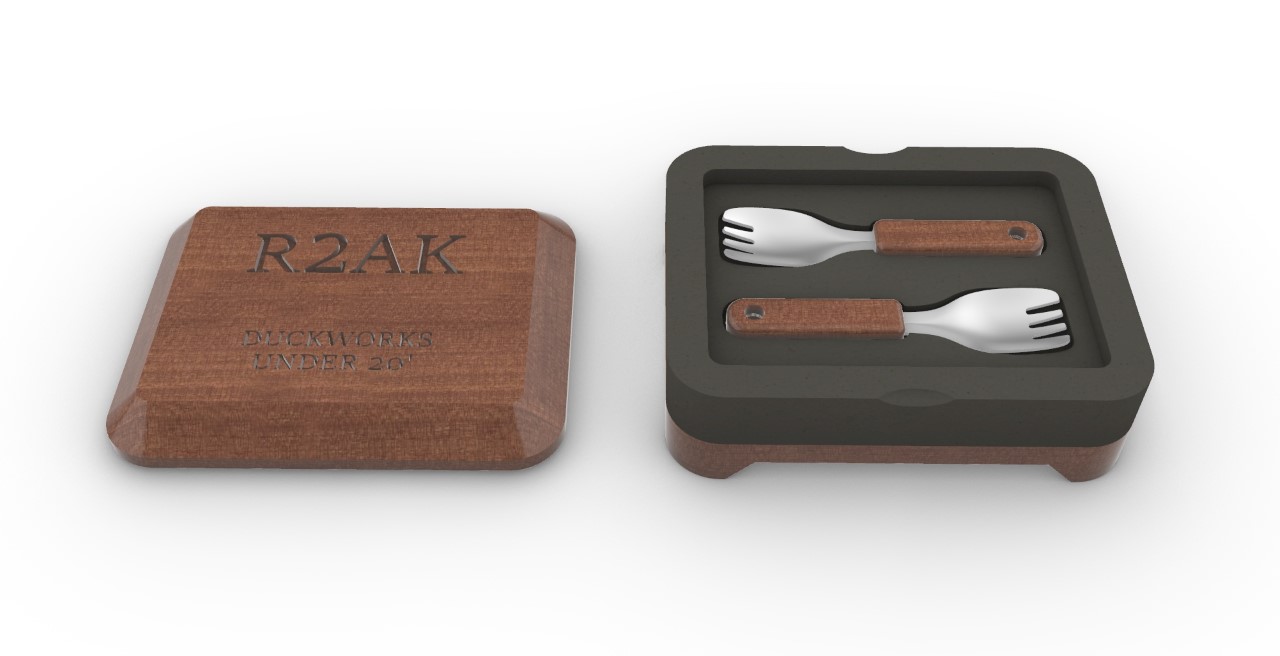 There are a dozen teams racing that are eligible to win this side bet and take home these positively *priceless* sporks! We're hoping to catch some of the racers before the race so you can pick your favorites to root for.
The race is just a few short weeks away, and we'll be eagerly watching from afar and cheering on the little boats and their intrepid rowers, sailors, and paddlers propelling them to victory. We'll post the link to the R2AK race tracker HERE on this page once it goes live, but for now you can get acquainted with the racers here. Hope you join in the fun and follow along, too.
Recent Posts
Get 10% off storewide* -- and a FREE Duckworks Rubber Ducky on supply orders of $50 or mor …

There's a well-known folk adage out in the world, 'The proof of the pudding is in the eating.' Bu …

Some of you may not know that long before I came onboard at Duckworks, I worked for the Nor …