Duckworks is thrilled to be making our first appearance at the 2023 Seattle Boat Show, February 3-11! As the largest boat show on the West Coast, the Seattle Boat Show is a huge event that speaks to a wide variety of boaters, and we'll be there helping to introduce a whole new audience to the unique joys of building your own boat.

We have some exciting things planned for our time in the Emerald City!
Stop by our booth in the East Hall at Lumen Field Exhibition Hall to get an up close look at our Portage Pram and Scout CNC kit boats in person, take advantage of some boat show specials, and enter to win a pair of our carbon XPL Oars. (Bonus: a chance to meet the faces behind the voices on the phone at Duckworks! Priceless.)
Dream it. Build it.
Learn about Duckworks boat kits and plans!
The Seattle Boat Show is the perfect time to connect in-person with the people who know the ins and outs of putting together a kit boat from start to finish, or starting from the ground up with plans and the right materials. You'll even be able to take advantage of some Boat Show specials we'll be offering on our boat kits!
| | |
| --- | --- |
| A completed Scout on the water | A beautifully finished Portage Pram |
You'll have an opportunity to get an up close and personal look at two of our popular CNC kit boats during the event. We'll have both the Portage Pram and the Scout on display, and the experts on hand to answer all of your questions about these lightweight, quick-to-build boats available here at Duckworks.com.
Additionally, we will be displaying an example of an achievable boat built from plans, a Wee Lassie Canoe crafted by our good friend Beth Kennedy. Beth built her Wee Lassie skin-on-frame canoe at the Northwest Maritime Center boatshop in Port Townsend, using as much reclaimed material as she could. Her 10'6" canoe was built from whatever material was lying around; including parts of an 80' plus mast, a burned barn beam and the treasures in the scrap box!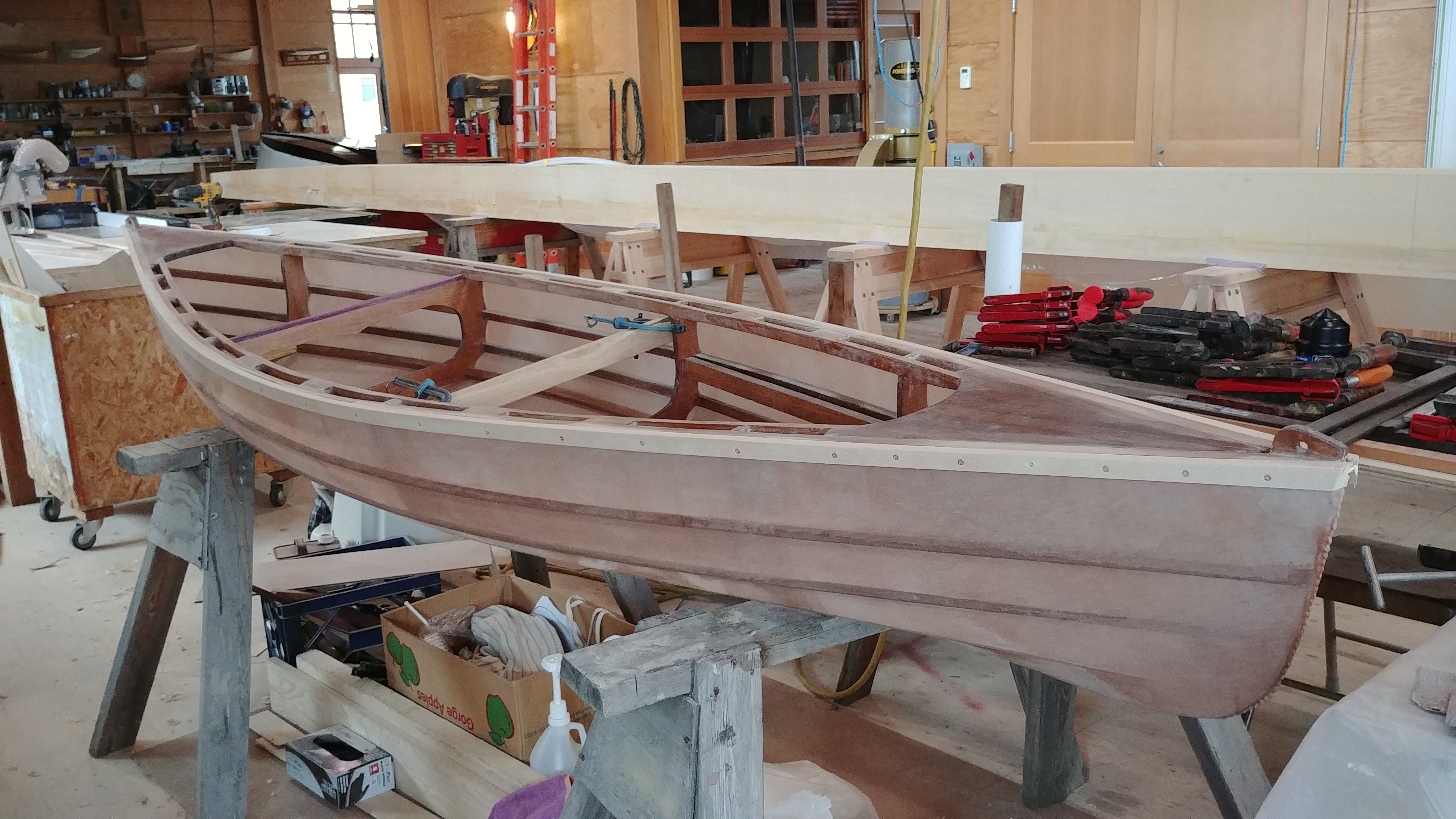 Beth's "Wee Lassie" under construction. A beautiful example of what you can do with a few materials and a lot of heart!
Enter to Win a pair of XPL Oars!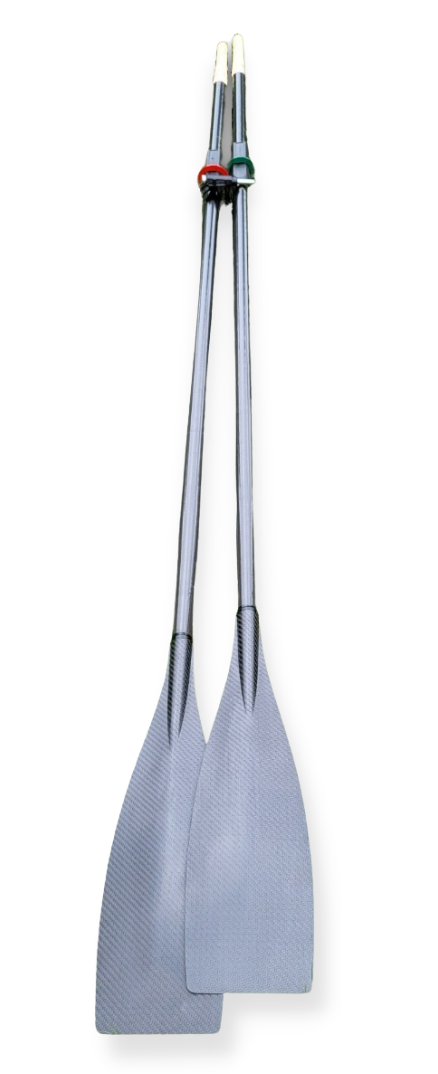 During your visit you can also enter to win a set of our new XPL oars. These incredibly strong and featherweight oars feature 2-piece carbon-fiber shafts. They're the perfect solution for tricky storage, sporting a ferrule connection that uses a simple stainless button that locks firmly in place with just a push.
The spoon style shape and thin carbon fiber blades allow for smooth rowing with reduced turbulence compared to conventional wooden blades. They're paired with smooth, basswood handles mated to their carbon fiber shafts, something we learned during conversations with ocean-crossing rowers is a preferred feel for the hands. These innovative oars combine the best of both worlds,: carbon performance and real wood comfort.
You won't want to miss out on a chance to win a set of these space saving, high performance oars, so be sure to stop by and enter to win when you come by to say hello!
"Boating's Greatest Thingamabob"
There's one more reason to stop by and see us while you browse all the show has to offer; Duckworks will have a front row seat for one of the show's most interesting attractions, "Boating's Greatest Thingamabob!"
Our booth is right next to the show's centerpiece attraction, a Rube Goldberg inspired machine that will be invented and constructed during all nine days of the Boat Show by Zach Umperovitch. Umperovitch is a three-time Guiness World Record holder, and the world's leading authority on Chain Reaction Machines. The unique and whimsical contraption will be designed with a boater's heart in mind, and it adds a side of physics that's sure to delight every tinkerer. Really, what more could a boat builder ask for?
There's truly something for every boating enthusiast at the Seattle Boat Show. We are excited to share the magic of boat building with the community, and look forward to connecting with you in person during our first appearance at this years' event!
Where You'll Find Us
The action takes place Friday, February 3rd - Saturday, February 11th at the Lumen Field Event Center, and you can find Duckworks in the East Hall during the entire event.
Show Hours
Monday – Thursday: 11 am – 6 pm
Fridays: 11 am – 9 pm
Saturdays: 10 am – 8 pm
Sunday: 10 am – 6 pm


Pro tip: If you come on a Friday night, join in the "Uncorked" wine tasting event on opening night Feb 3, or "Sails & Ales" beer tasting event on Feb 10th! (Uncorked will in fact be hosted by our neighbor across the aisle.) ;)
We hope to meet a few of you in person and share some of our love for boat building (and a few rubber duckies, too!) during our first appearance at this year's Seattle Boat Show.
For more details visit: seattleboatshow.com
To purchase tickets visit, https://seattleboatshow.com/buy-tickets/
Recent Posts
There's a well-known folk adage out in the world, 'The proof of the pudding is in the eating.' Bu …

Some of you may not know that long before I came onboard at Duckworks, I worked for the Nor …

A lot of potential would-be boat builders ask us, "What's the best boat for a beginner to build?" …