We are thrilled to finally share some big news that has been in the works for quite a while now . . . Duckworks is now a sister company of Gig Harbor Boat Works!
Gig Harbor Boat Works is already well known to the Duckworks community as the makers of the fiberglass SCAMP. They were involved in the SCAMP project from very early on, meeting with Josh Colvin, John Welsford, and the Small Craft Advisor crew to ensure that the fiberglass version was true to its wooden boat roots. Their fiberglass Scamp is almost indistinguishable from the wooden one in both looks and handling, capturing the original design intent of this unique and capable little boat.
Duckworks has had a lot of cross-pollination with GHboats over the years, as they've referred countless customers to us for the Scamp and other boat plans that folks reached out to them about as well as hardware, gadgets and supplies. They've done a stellar job with their videos of the Scamp on YouTube, which has helped introduce the Scamp to new audiences that wouldn't have come across it otherwise. At the same time, we've sent a lot of Scamp home builders their way who were looking for a ready-made Scamp aluminum mast, trailer, or other parts that they carry which Duckworks does not.
Since Duckworks caters to home boat builders, and Gig Harbor Boat Works caters to those who want to buy a complete boat ready to go, they are two sides of the same small-craft coin. So it really made all the sense in the world for these two sister-ships to officially team up.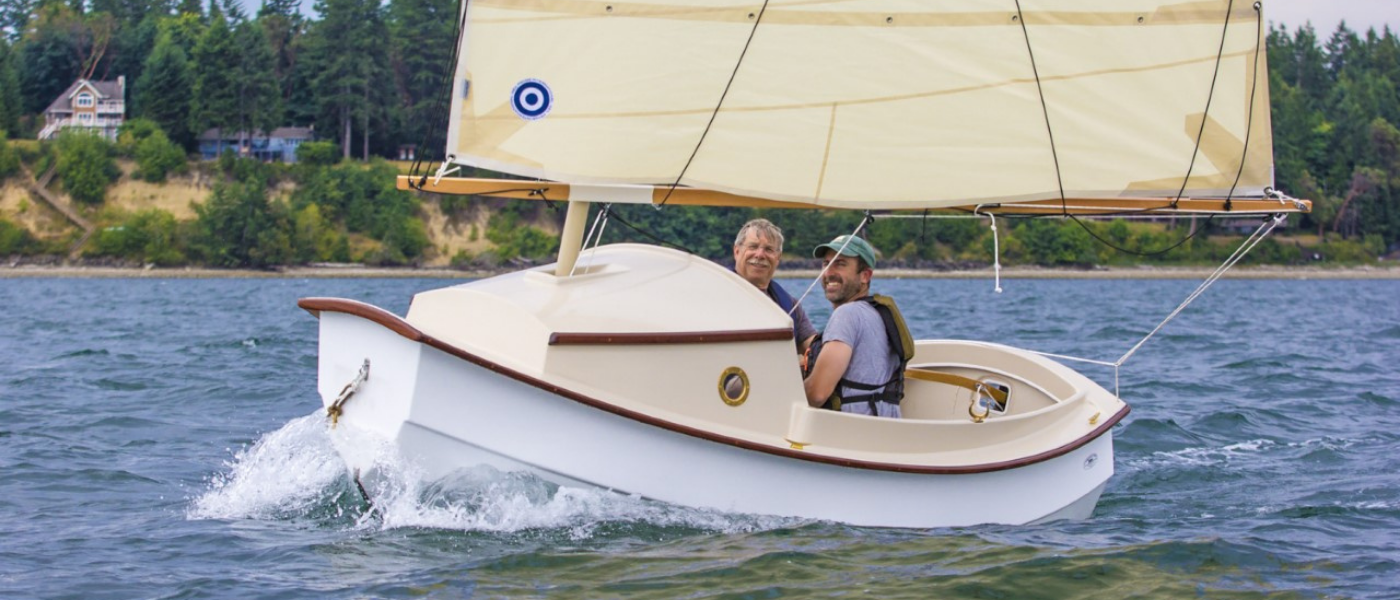 Gig Harbor Boat Works founder Dave Robertson (left) with Josh Colvin (right) sailing the fiberglass SCAMP on its first sea trial
Staying true to Duckworks family business roots
Duckworks Boat Builders Supply originated as a small family business in Texas, founded by Chuck Leinweber in the year 2000 as a companion business to Duckworks Magazine. Chuck is also the founder of the Texas 200 "moving messabout," and Duckworks grew along with the popularity of the annual event. Ultimately, Duckworks grew a life of its own and the boat builders supply side of the business eclipsed that of the magazine.
Eventually Chuck and his wife Sandra began looking to retire from the now busy enterprise, and in 2016 Josh Colvin of Small Craft Advisor magazine acquired the business. Josh and crew moved every scrap of inventory cross country to relocate Duckworks to its current home in Port Townsend – a world-renowned boatbuilding community. Port Townsend is the seat of big annual events like the R2AK, Salish100 and Wooden Boat Festival, with the nearby Northwest Maritime Center and Northwest School of Wooden Boatbuilding doing good work teaching people to build and appreciate wooden boats.
Duckworks continued to grow and expand its offerings, but after also acquiring Glen-L Marine in 2020, Josh and his wife Anika realized running three companies didn't leave them much time for raising a family with three kids!
"We decided it was time to simplify our lives a bit," Josh says. "It was important to us that we sold Duckworks to a company that would carry-on the tradition of knowledgeable customer service and a sincere interest in the small-boat world. The Gig Harbor Boat Works relationship made it a perfect fit."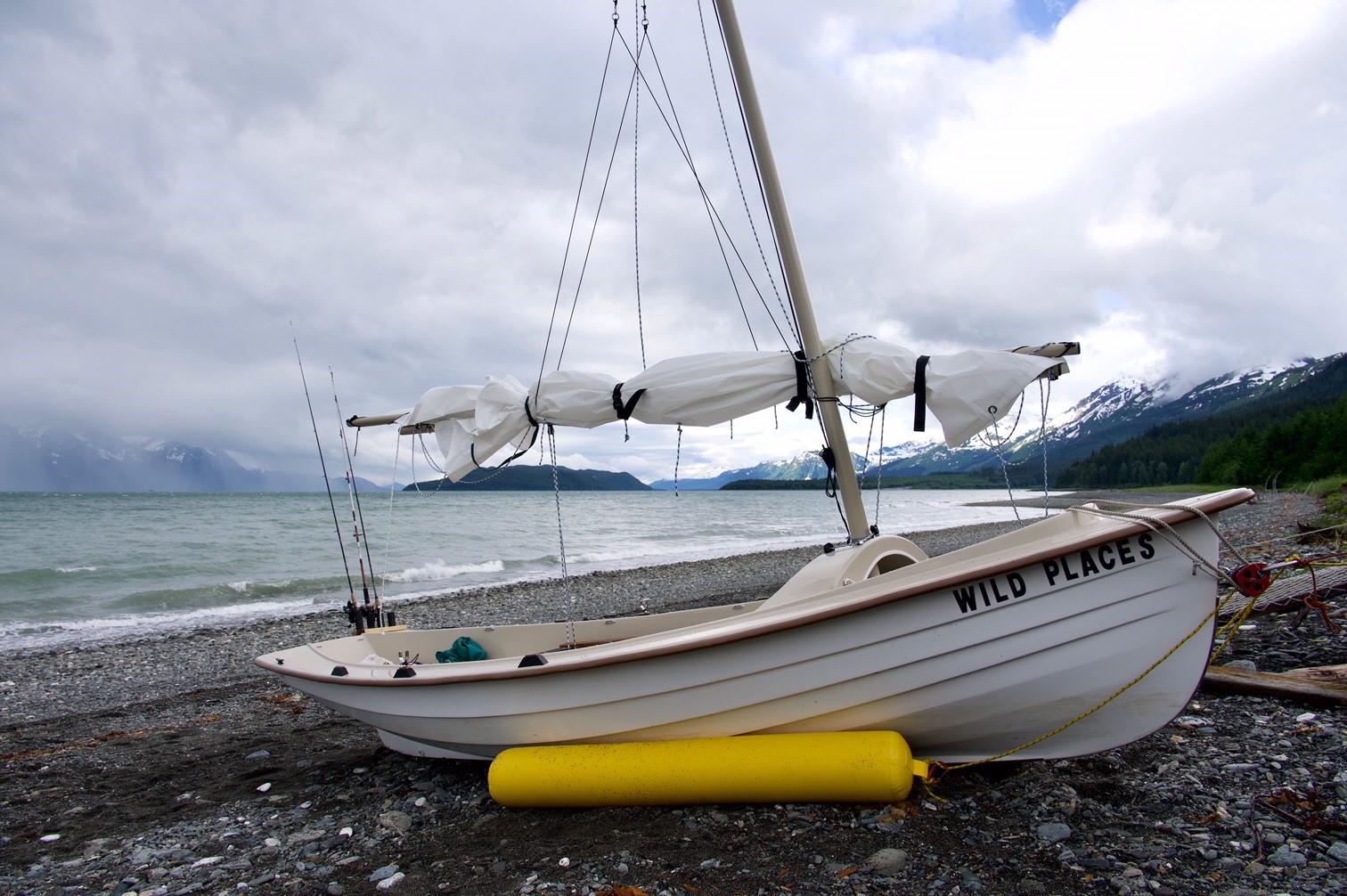 17' Salish Voyager bullt by Gig Harbor Boat Works pictured alongside a Beach Roller from Duckworks in a remote area of Alaska
Gig Harbor Boat Works as a Sister-Ship
At the beginning of 2022, Duckworks was acquired by Gig Harbor Boat Works as a sister company. Gig Harbor Boat Works builds fiberglass rowing and sailing boats inspired by designs from the age of working sail. It was founded by Dave Robertson in the garage behind his house in the late 1970s, incorporated in 1987, and since then has grown into one of the premier small-boat builders in North America. Now managed by Dave's youngest daughter Katie Malik and his son-in-law Falk Bock (married to oldest daughter Jessica), Gig Harbor Boat Works is another small business success story.
"Gig Harbor Boat Works has a reputation for high quality boats, excellent customer service, and an enthusiasm for small craft boat design that has gotten us where we are today. Duckworks has a very similar story, so there's a very natural fit between the two companies," Katie says.
"As a custom boat builder, Gig Harbor Boat Works has always been very much a one-boat-at-a-time company so we never had need for an online store. But we're now seeing such a high level of demand for both our boats and other standalone products like our forward facing rowing system that it makes sense for us to scale up into e-commerce. We can learn a lot from Duckworks and the way they've set up a successful online storefront and warehouse operation. It's exciting to see how these two businesses will learn from and help each other in coming years as they continue to grow."
We intend to keep Duckworks running in the same tradition of family-run roots and customer-focus that has made it successful until now, while also enabling the company to continue to grow and flourish as more and more people around the world discover the joy of building your own boat.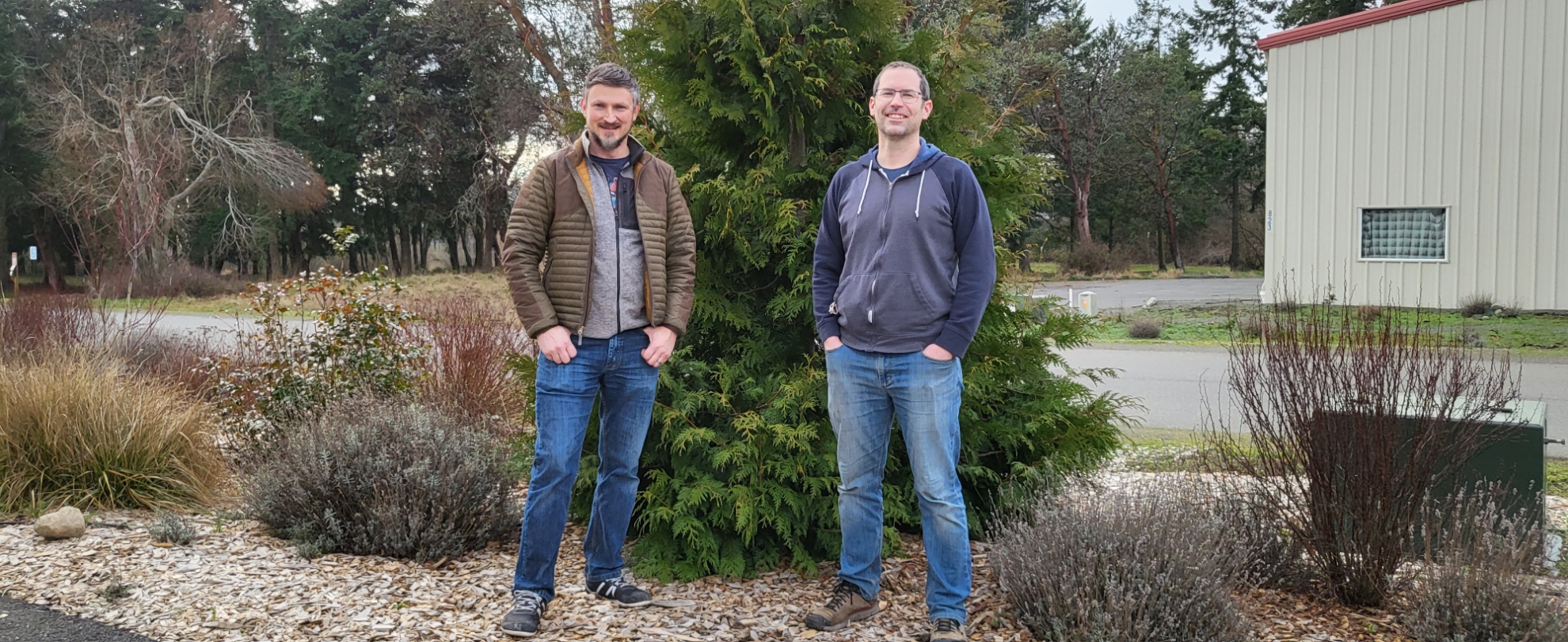 Falk Bock, Production Manager of Gig Harbor Boat Works (left) with Scott Jones, Operations Manager of Duckworks (right).
Who's Who at Duckworks:
Scott Jones is the new Operations Manager for Duckworks, and resident guru of all things boatbuilding. Tammy handles the bookkeeping, and Beth does much of the day-to-day shipping. Katie Malik (General Manager of Gig Harbor Boat Works) helps the Duckworks crew out with the high-level financial stuff as well as overseeing the website and marketing side of things. And though he's now retired, Chuck is still around helping out remotely as a subcontractor from time to time.
Never fear, the Duckworks that you know and love isn't going anywhere. We're honored to be the stewards of this small-but-mighty Duckworks vessel as it sails on!
---
Learn more about Duckworks at duckworks.com
Learn more about Gig Harbor Boat Works at ghboats.com
Recent Posts
Get 10% off storewide* -- and a FREE Duckworks Rubber Ducky on supply orders of $50 or mor …

There's a well-known folk adage out in the world, 'The proof of the pudding is in the eating.' Bu …

Some of you may not know that long before I came onboard at Duckworks, I worked for the Nor …