Product Description
Sneakerbox Plans
If you like to spend time looking at drawings of small boats one of the best books to invest in is Howard Chapelle's AMERICAN SMALL SAILING CRAFT. If you turn to page 65 you will see a drawing of the "Old garvey box, substitute for a sneakbox". The sneakbox itself is a fairly refined shape to be seen on page 313. They were small handy row/sail boats used by sportsmen around the Chesapeake a century ago but they live on in boats like the Sunfish that are very similar in size and style. Chapelle's old garvey box is the same size and style but with a simple flat bottomed cross planked hull instead of the sneakbox the round bilged hull of a real sneakbox.
You can learn a lot more about the sneakbox on the internet. Start at the Eldritch Press shown in my links. There is a lot of stuff at Eldritch, mostly "literature". But for some good reason there is also a section on classic small boat books including Nathaniel Bishop's FOUR MONTHS IN A SNEAKBOX, complete with all maps and drawings which include details of a 1870's sneakbox. Bishop took his sneakbox from Pittsburgh down the Ohio to the Mississippi to the Gulf Coast to Florida. He camped almost every night. All was done with oars, no sail rig was taken. Quite a journey! And quite interesting to historians and anyone who lives near those waters (like me). Anyway, Al Tilley is the one who told me about Eldritch and who built the first Sneakerbox.
Here is the writeup about Sneakerbox in the current catalog:
Here is a new design based on a traditional boat, Chapelle's "garvey box". She's the same size and layout as the original garvey box. The prototype was built by Al Tilley of Montrose, Pa.
I'm sure she's lighter than the old planked garveys, maybe half the weight because of the modern plywood box construction. Still, she's too heavy for casual cartopping (and not well shaped for it either) because of the extra weight of the deck. There's nothing to be done about it except to go to n open top design like Piccup Squared. But the old sneakbox boats were always decked.
I put a lateen sail on Sneakerbox and didn't copy the original boomless sprit rig. The boomless rig would stow better but the lateen would easily outsail it and be much more likely to be rigged properly. What!! No pivoting leeboard?? This hull is too shallow to make one work well. I kept the traditional daggerboard. (Al has not built the sail rig yet, using the boat for recreational rowing.)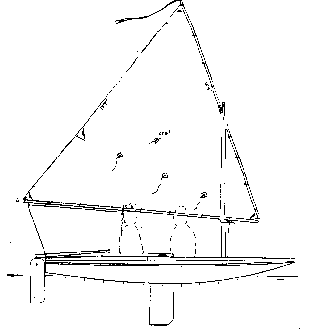 Six sheets of plywood make Sneakerbox. The boat has taped seam chines. No jigs or lofting required.
Plans are three blueprints with complete instructions.
ROW/SAIL PUNT, 13' X 4'', 140 POUNDS EMPTY
Product Videos
Product Reviews